Lantau sunset tour on sale and traveler Spanish course in June 2017
Apart from doing private tours, I upload the new private tour option, Lantau Big Buddha Tai O Sunset Private Car Tour, and take the 'traveler Spanish course' in June 2017.
Lantau Big Buddha Tai O Sunset Private Car Tour on sale
Lantau Big Buddha Tai O Sunset Private Car Tour is the third tour of Easy Hong Kong Private tour for the largest Island in Hong Kong.
Driver Ringo and me always help the travelers to tour the Lantau Island more easily and enjoyably by offering the efficient private transfer, dodging the crowd at the Ngong Ping 360 Cable Car Terminus and by seeing more on the beautiful island.
So Lantau Big Buddha Tai O Sunset Private Car Tour includes the round trip transfer by comfortable and efficient private car.
Guests can take the cable car at Tung Chung at about 4:30 pm to go uphill when most other people take the cable car to go downhill. So guests can enjoy the 'free upgrade' to 'private cable car cabin' for 'VIP'.
After saying hello to the Big Buddha, guests can take Lantau tour bus to go to Tai O to enjoy the beautiful sunset!
At last, private Lantau taxi brings the guests to go back to Tung Chung through the scenic South Lantau Road and Shek Pik Reservoir.
If YOU want to get this easy and enjoyable private tour experience, please browse and book the Big Buddha Tai O Sunset Private Tour.
YOU may also consider the full day 8-hour private tour for Lantau Island and Hong Kong Island or half day Lantau private tour.
Traveler Spanish Course
I take the 'traveler Spanish course' in June.
Most classmates take this course for their trips to the Spanish speaking countries in the future.
I take this course for serving the Spanish speaking guests better.
My practical goal is to learn some important keywords in Spanish for a better communication with the guests.
For example, keywords related to ir de compras (to go shopping), aeropuerto (airport) and emergencias (emergency).
The course is the funny and useful experience!
Ringo's holiday in June 2017
Driver Ringo goes to Seattle for his son's graduation ceremony. Congratulations!
Ringo brings me the 'Made in America' T-shirt. Thank you very much!
Booking system upgrade in progress in June 2017
Now the booking system just links to PayPal. It can receive guests' tour fees.
As it doesn't link to the Google Calendar, guests need to send me extra e-mails to confirm the private tour dates.
So the system is not good enough.
I am upgrading the booking system by the good plugin in WordPress to make it more user-friendly.
Summary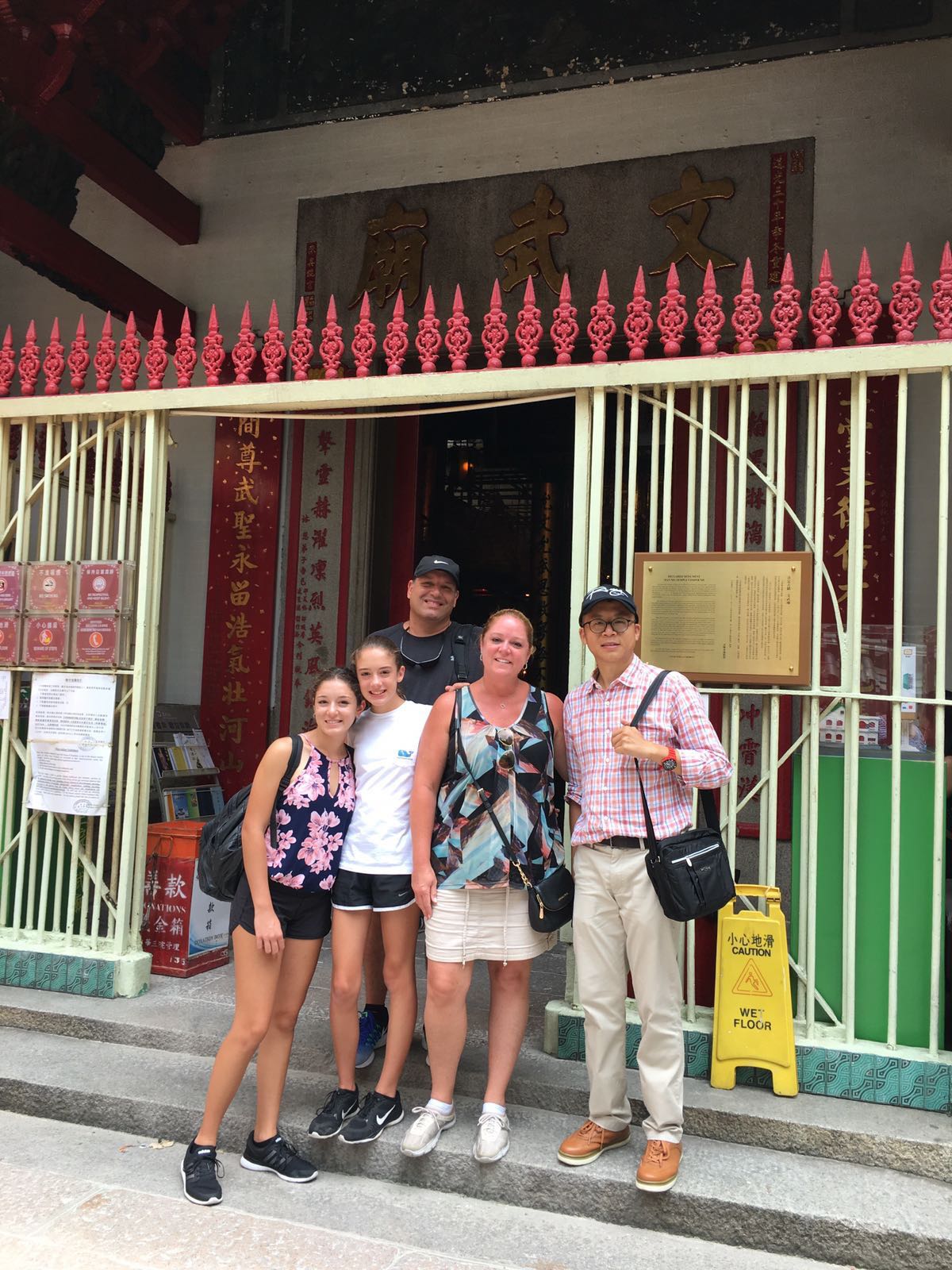 Article Name
Review of June 2017, Lantau sunset tour and traveler Spanish course
Description
June 2017 review-Lantau sunset tour on sale and take Spanish course
Author
Publisher Name
Easy Hong Kong Private Tour
Publisher Logo