Anita Mui Statue at Garden of Stars
At Tsim Sha Tsui's Garden of Stars, next to Bruce Li Statue, you can find the statue of Anita Mui, the Canton Pop Queen.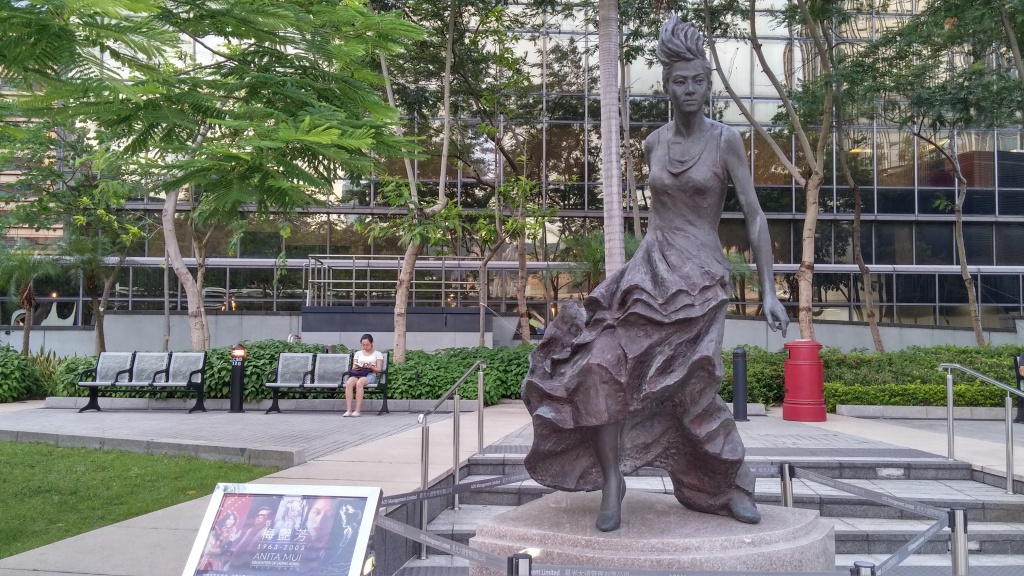 https://www.youtube.com/watch?v=jEfAHx-AXa4
When she was a little girl, Anita had started her performance career at Hong Kong's local amusement parks.
Anita Mui and Hong Kong's local amusement parks
There were the local Kai Tak Amusement Park (opened in 1965) and Lai Chi Kok Amusement Park (opened in 1949). Their main customers were the factory workers.
The YouTube video shows you the Kai Tak Amusement Park in 1971…
https://www.youtube.com/watch?v=Gfr1jPxtx9w

Elephant of the zoo in the Lai Chi Kok Amusement Park (scanned from the Voice)
Apart from amusement ride attractions, the two local amusement parks offered live music performance to the guests.
Anita joined her mother's troupe and started her performance in the parks at the age of four!
Her talent and experience laid a good foundation for her successful career.
In the 1980s, she became the Queen of Canton Pop and brought Hong Kong's music to Mainland China, Taiwan and Southeast Asia. She also got the Best Actress Award in Hong Kong and Taiwan.
The expected demise of local amusement parks and unexpected demise of Anita
Amusement park's good business relies on continuous investment on upgrading the facilities to keep the old fans and attract new customers.
For example, now, after adding Iron Man Experience and Disney Explorers Lodge in 2017, Disney and Hong Kong Government will invest 10 billion to expand the park. Ocean Park is building its own hotel, Ocean Park Marriott and the new Water World.
However, the local amusement parks did not do so. So the expected demise of Kai Tak Amusement Park happened in 1982 and Lai Chi Kok Amusement Park happened in 1997.
Recently, Lai Chi Kok Amusement Park had reappeared as a carnival and there is one themed restaurant related to this park.
Anita's unexpected demise was more upset. She died young in 2003 because of cancer.
You can now only see Anita's statue at the Garden of Stars and watch Anita's performance on YouTube!
Summary
Article Name
Canton Pop Queen Anita Mui and amusement parks of Hong Kong
Description
Anita Mui Statue at Garden of Stars-Easy Hong Kong Private Tour
Author
Publisher Name
Easy Hong Kong Private Tour
Publisher Logo