Mein Schiff 2 new sail becomes the role model of other cruises after pandemic
Mein Schiff 2 (My Ship 2) first voyage with more than 1000 cruisers should be the good news for cruisers, cruise companies and tourism industry.
Frank summarizes different information from a lot of passages to write this post for this important voyage, which may become the role model for others.
For example, Royal Caribbean, which suspends all cruise until November, actually is a 50% owner of a joint venture that operates TUI Cruise (Mein Schiff 2's owner). The American cruise giant can copy and paste the measures of its European counterpart to its cruises.
Although this voyage has no port of call, Frank does think things will go better step by step.
Cruises will sail to different ports again soon after the pandemic.
Frank will be able to pick up clients in Hong Kong's Ocean Terminal and Kai Tak Cruise Terminal to serve them in the easy shore excursion by private car.
Different sanitation measures during the first voyage of Mein Schiff 2 after Covid-19
1 Embarkation?
Before embarkation, cruisers need to fill in the health questionnaires. Cruise company also checks cruisers' temperature.
Frank cannot find the complaint for long waiting in different posts.
This may relate to the fewer number of passengers.
Actually the normal capacity for Mein Schiff 2 is 2,900 but this time it sails with about 60% capacity onboard (1,200 cruisers) in order to promote social distancing.
2 Social distancing?
Passengers and crew need to stay 1.5 metres away from one another.
The elevator floor is divided into four squares with clear markings. Each cruiser occupy one square fairly!
Chairs and tables are all distanced in bars and restaurants. See the Instagram post…
3 Masking and temperature check on board?
For cruisers, it is no need to wear mask all the time. If cruisers cannot keep social distancing, e.g. in cabin hallways, cruisers need to wear mask.
Crew members wear mask all the time to serve cruisers.
Every morning, cruisers' temperature is checked. There are different temperature check point. The machines is similar to smart phone. The checking, which is similar to take selfie, is easy!
4 The rooms?
Cruisers can only book for suites or stateroom. They all have balconies so that all cruisers can get fresh air.
5 Dining?
There is no self-service buffet.
Order becomes contactless.
Diners with smart phone scan the qr-code to get the menu and order through their phone.
Of course, waiters still serve diners without phone personally.
6 Entertainment?
Cruisers can still swim, go to gym and have a massage. See the Instagram post…
Number of cruisers in pool and gym is strictly controlled.
When cruisers are facing down during massage, they are no need to wear mask.
When they face up, they need do wear mask again.
7 Port of call / Shore excursion?
As cruise company wants to have the short and restrictive sailings, there is no port of call.
So there is no shore excursion this time!
You may refer to post of Cruise Radio.net for more details…
Frank hopes cruise industry can have a step by step resumption and he can serve cruisers during private shore excursion again soon
Although Mein Schiff 2's first sail after pandemic has no port of call and no shore excursion, Frank is still confident to the future of cruise industry.
Frank believes the cruise industry will have step by step recovery and resumption.
Cruises will have ports of call and shore excursion soon.
Then he can serve the cruise passengers again at Hong Kong's Kai Tak Cruise Terminal and Ocean Terminal during the easy private shore excursion by private car.
See you later in Hong Kong!

Summary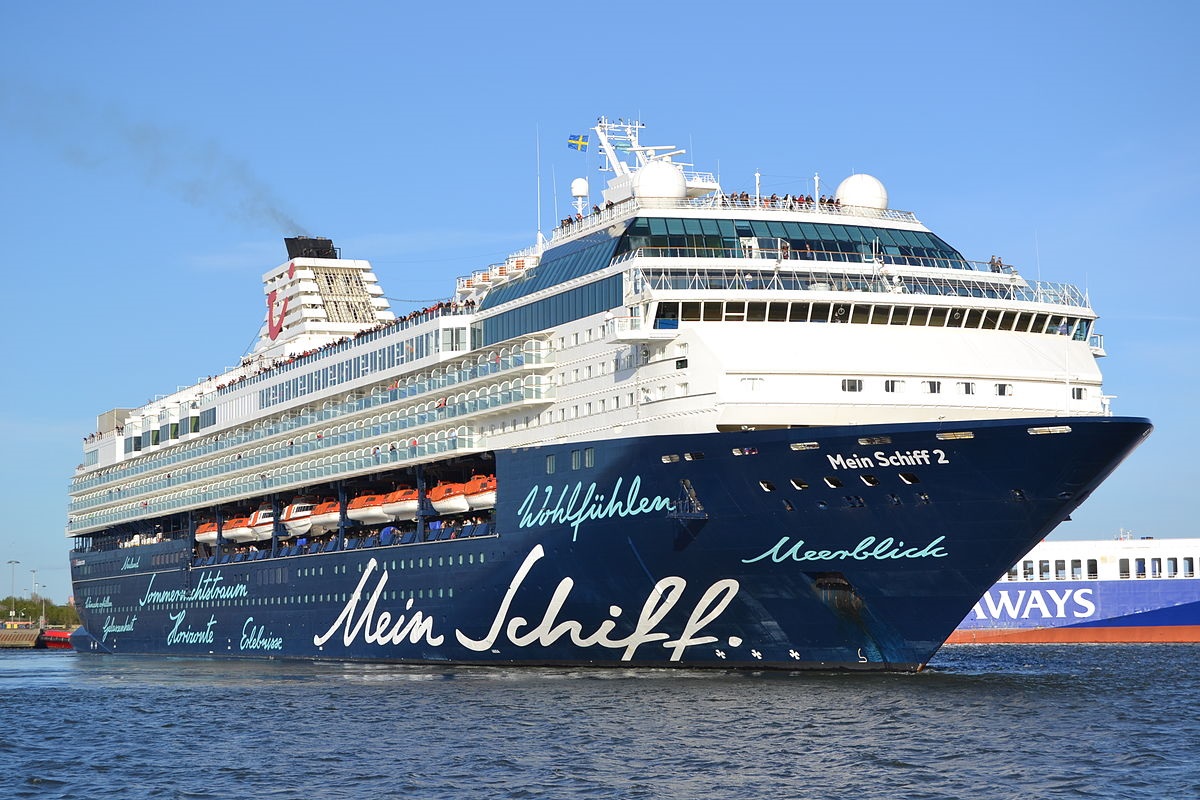 Article Name
Mein Schiff 2 first new voyage can be the role model for other cruises after Covid-19
Description
Mein Schiff 2 new sail becomes the role model of other cruises after pandemic
Author
Publisher Name
Easy Hong Kong Private Tour
Publisher Logo