Frank sees aeroplane's contrail and misses all travelers during Covid-19 outbreak
Hong Kong tourism reaches the low ebb after the year long Minneapolis-style riot.
It comes to a complete standstill after the world wide Covid-19 outbreak.
Flights go back and forth Hong Kong International Airport reduce to the minimum.
Frank the tour guide suddenly sees the contrail from home.
He takes the photos and misses the travelers.
Frank is going to wait for more contrail to appear in Hong Kong sky, which means more travelers' arrivals!
Airlines cut seat capacity after riot and cut flight number to the rock bottom after world wide Covid-19 outbreak
After the social unrest related to extradition law revision issue started in June 2019, travelers began to go to other places, instead of Hong Kong.
Airlines began to cut seat capacity.
During the high season, December 2019, Hong Kong airport's seat capacity was down 12 per cent year over year for the week of December 2. (For details, please browse South China Morning Post's report).
When a lot of countries shut down after the Covid-19 outbreak in 2020, people cannot travel and airlines began to cut the flight number to the rock bottom.
In April 2020, Hong Kong Airport just handled about 9500 flights, a year-on-year decrease of 73.5 per cent.
Normally it handles more than 30,000 flights a month. See the A-380 of Emirates landed at Hong Kong Airport…
Now the situation is getting better step by step.
Up to June 2020, world's famous and major airlines, Cathay Pacific, Air Canada, British Airways, Emirates, Japan Airlines, KLM Royal Dutch Airline, Lufthansa, Singapore Airlines and Swiss International Airlines, all fly in and out of Hong Kong Airport. (Information from the post of Tatler Hong Kong)
Air transit/transfer services at Hong Kong International Airport (HKIA) also resume gradually from 15 June 2020, (For details, please browse Hong Kong Airport's post)
Pandemic breaks out, reaches the climax and dies down.
Frank does believe flight number drops to rock bottom, increases gradually and returns to normal.
A lot of contrail will soon appear again in Hong Kong sky!
Frank the tour guide always waits for travelers in Hong Kong 
Frank the tour guide just waits to see your flights' contrail in Hong Kong sky again.
Hope can say hello to travelers at Hong Kong Airport and offer you the easy private tour experience again!
Hope can say goodbye to the Covid-19 and the world can return to normal soon!
Summary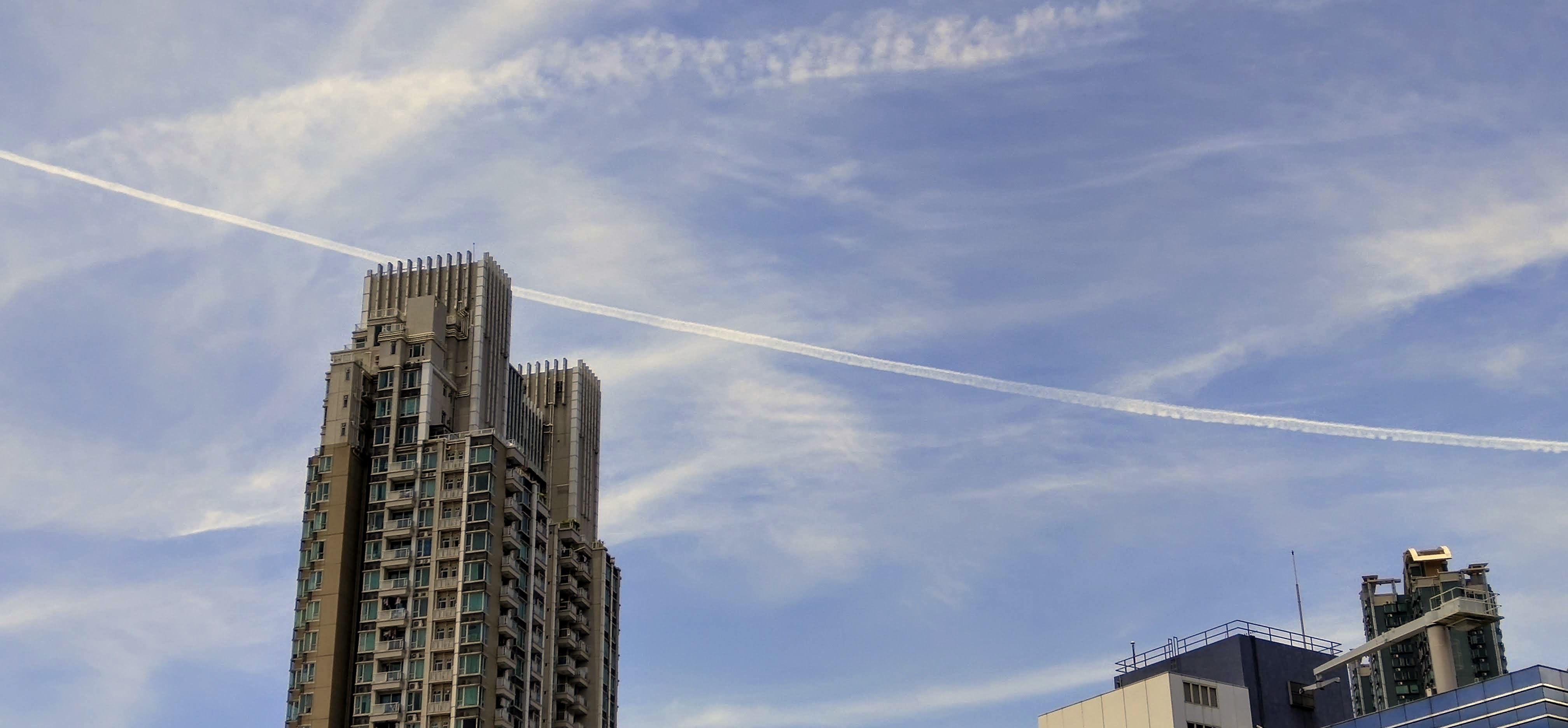 Article Name
Frank the tour guide waits for your flight's beautiful contrail at Hong Kong
Description
Frank sees aeroplane's contrail and misses all travelers during Covid-19 outbreak
Author
Publisher Name
Easy Hong Kong Private Tour
Publisher Logo