Hong Kong Observatory's weather information for visitors
It is important for every visitors to check the weather before TIY, tour Hong Kong yourselves.
Everyone is equal before the weather!
Even VIP visitors faced the annoying weather problems during their Hong Kong trip (For VIPs' weather problems, please browse Frank's another post).
Hong Kong Observatory has the Hong Kong weather information for tourists webpage to help visitors to plan their journey.
It is no need to download anything.
You just need the internet connection to use this very responsive webpage, which renders well on a smart phone.
Frank the tour guide is going to introduce the webpage's functions in this post.
Frank will also show its one defect.
Besides weather, visitors still need to handle how to get to the attractions, find local food etc. by themselves.
Actually visitors can get the easy sightseeing, dining and logistics solution from Frank's Hong Kong private car tour service.
Current weather and forecast
At the top of the webpage, which has a beautiful background photo of Hong Kong skyline, shows Hong Kong's current weather and forecast.
There are basic but important weather information: temperature, range of temperature variation, relative humidity, wind direction, wind speed and weather warning signal.
The useful probability of rainfall and UV index can tell visitors whether they should bring umbrella or apply sunscreen lotion.
Shower and scorching sun may appear on the same day at different times in the hot and wet summertime of Hong Kong!
The 9-day weather forecast helps visitors to plan ahead the trip to tour Hong Kong yourselves.
Weather at attractions
Visitors' TIY plans cover different attractions.
You just need to scroll down a little bit to check the current weather and forecast for 40 attractions in Hong Kong.
You may click the "Details" icon to learn more.
In each attraction's webpage, under the basic and useful weather information, there are three buttons.
You may click the green "location" button to check where the attraction locates in Hong Kong.
You may click the brown "attraction info" button to browse the Hong Kong Tourism Board webpage for more travel tips.
You may click the blue "weather photo" button to see the high definition photo.
Useful information for sunrise, sunset and tide
Just scroll down to the bottom of the Hong Kong Weather Information for Tourists page, you can see the astronomical and Tidal Information.
Visitors can read the time for sunrise, sunset, high tide and low tide.
These useful information help visitors to plan the early morning sunrise trip, late afternoon sunset trip and water sports activity in Hong Kong.
A fly on the ointment, NO visibility information in the same page
However, there is one defect in this useful weather information webpage for visitors.
It does not show the visibility information of Hong Kong.
Although visitors can get Hong Kong's visibility information in another page of Hong Kong Observatory, this actually brings inconvenience to visitors.
Visitors can enjoy the amazing Hong Kong skyline and nice Victoria Harbor view at the Victoria Peak and waterfront promenade easily when the visibility is high.
It is important for the visitors to know the latest visibility information.
This helps visitors to catch the opportune time to see the great view.
Frank the tour guide also checks the visibility information before his Hong Kong private tour service to make sure his clients see the good view.
Frank hopes Hong Kong Observatory can add visibility data to the Hong Kong weather information for tourists page in the future.
Frank's private tour offers easy sightseeing, dining and logistics solution to clients
Apart from weather problems, travelers still need to handle different knotty issues at the destinations, e.g. transportation, dining choices and sightseeing itineraries.
Actually travelers may find Frank the tour guide to do the travel planning work.
Frank the tour guide's private car tour service is the well-planned, reasonably-priced and trusted sightseeing, logistics and dining solution for clients.
Reviews for the private tour
Frank can help clients to dodge the difficulties of weather problems and offer clients the easy private tour experience.
Frank hopes he can serve you in Hong Kong soon!
For further questions, please contact Frank
Summary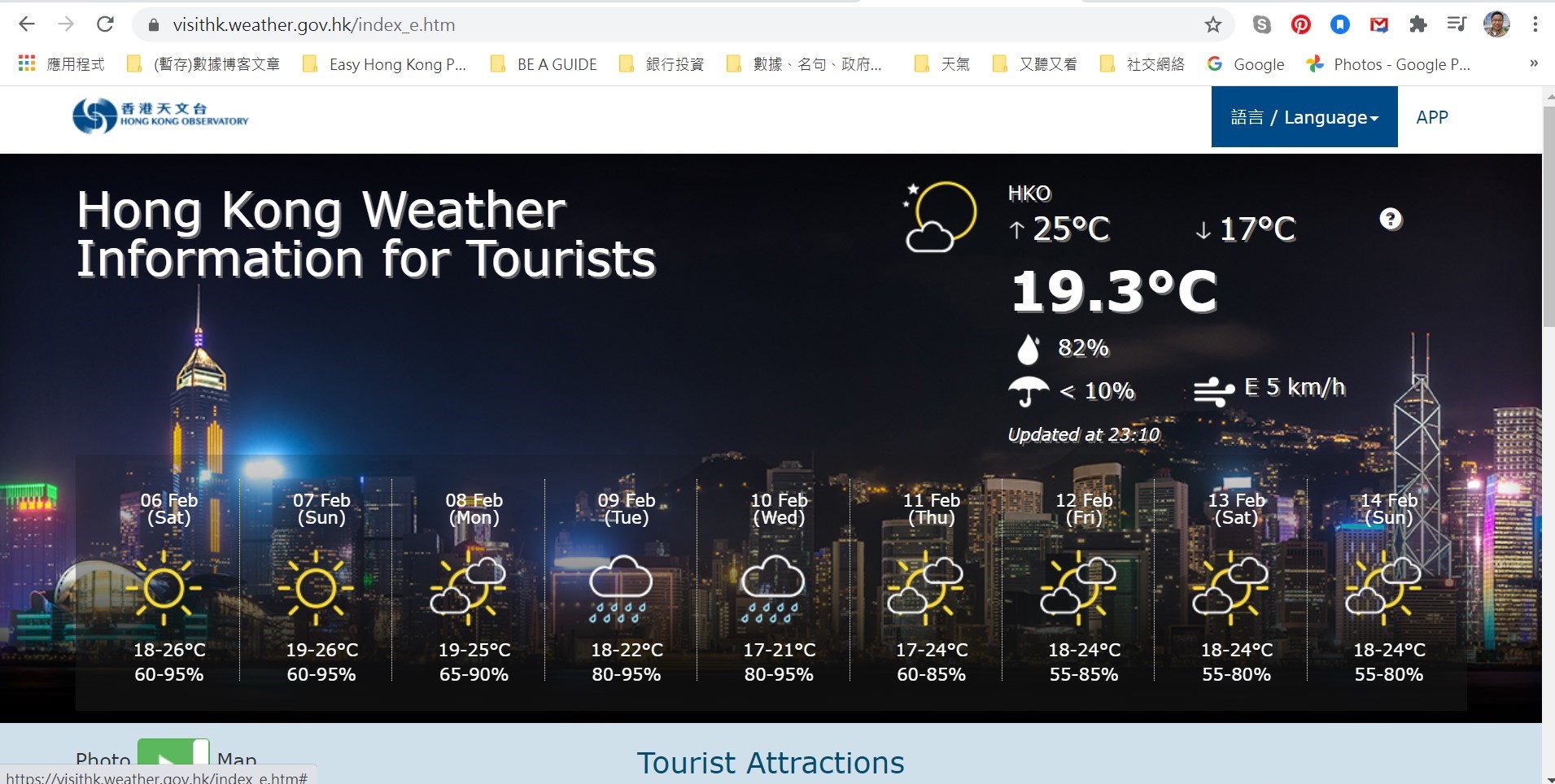 Article Name
Check Hong Kong weather information for tourists before TIY, tour Hong Kong yourselves
Description
Hong Kong Observatory offers useful weather information to visitors.
Author
Publisher Name
Easy Hong Kong Private Tour
Publisher Logo