YOUR Checklist for Macau private tour
This is a checklist for YOUR Macau private tour.
It tells YOU what YOU need to wear and bring to Macau.
Hope YOU can have a better preparation for YOUR easy and enjoyable Macau sightseeing experience!
Passport with departure card all the time
All travelers must bring passport to go to Macau. Please put YOUR passport inside YOUR handbag the night before YOUR Macau tour!
If YOU have no passport on the tour day, YOU cannot leave Hong Kong to go to Macau.
YOU need to go back to hotel to get it and buy another high speed ferry ticket as YOU have missed the ferry.
Remember keep the Hong Kong departure form inside the passport.
YOU need to submit the form to the Hong Kong Immigration Officers.
If YOU don't have the form, YOU need to spend time to fill in another one.
Then YOU may need to rush to take the ferry!
Wear easy and light shoes all the time
YOU need to wear the easy and light shoes, e.g. sneakers, sandals and boat shoes.
The hard leather shoes or high heels are not suitable for Macau.
Macau still has a lot of old and traditional cobblestone or stone slabs streets.
At the World Heritage sites, there are many original big and high stone steps.
YOU feel a lot more comfortable if YOU wear the easy and light shoes.
Actually Macau's casinos accept casual wear.
YOU are no need to be too formal in Macau!
Wear light and easy clothing, bring hat and sunglasses in the summer time
Macau has a subtropical climate, which means it has a very hot and wet summer time.
Our Toyota Noah local driver in Macau, Mr Li, told me that Macau is even hotter and more stifling than Hong Kong as Macau has an over compact city center.
It is better to wear the light and easy clothing with better perspiration function, cotton t-shirt, linen shirt etc.
There are 30 World Heritage sites in Macau!
The most popular and famous heritage sites, e.g. St Paul's Ruins, Mount Fortress and A-Ma Temple, Senado Square, have not much shade and cover.
Macau actually tries to keep the heritage sites as they are and doesn't want to build too much new things to damage the sites' original appearance.
It is better to use the hat and sunglasses to prevent sunburn and protect YOUR eyes.
Bring windbreaker all the time
When YOU tour Macau in the summer time, YOU can also experience the autumn or even winter time temperature in the casinos.
They shopping malls and gambling halls all have very strong air-conditioning.
That's why YOU, especially the lady, need to prepare a wind breaker in the summer time in Macau.
Our Toyota Noah local driver, Mr Li, also told me that Macau is colder than Hong Kong in the winter time as Macau has no high mountain and tall buildings to block the strong wind.
A lot of Western travelers, especially gentlemen, think that Macau's winter won't be too cold and don't bring thick jacket.
Then the windbreaker can make them feel warmer when they feel cool or even cold in winter in Macau!
Medicine or food for seasickness if YOU need
YOU need to take the high speed ferry, mostly Turbojet, to go back and forth Hong Kong and Macau.
Sometimes the sea is choppy. This makes some travelers feel seasick.
So YOU may bring some medicine or food for handling seasickness if YOU need.
As a private guide, I have been to Macau many times
Sometimes the rough sea makes me feel sick in the high speed boat.
Then I just drink some water, calm down, close my eyes and try to sleep for awhile.
Mostly I feel better later.
Or YOU may read the passage of cruise critic to know more about how to deal with the seasickness!
Book YOUR Macau private tour
I have prepared the well-planned private tour program by private car for YOU in Macau.
If YOU book my private tour, YOU just need to bring the above-mentioned stuff to get the easy and enjoyable private tour experience in Macau!
For the details of Macau private tour or shore excursion, please browse the tour webpage.
You may contact me directly for further private tour planning.
See YOU in Macau!
Summary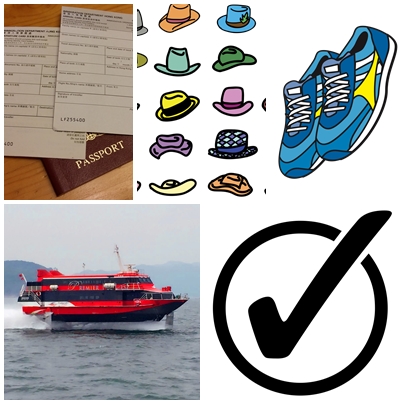 Article Name
Macau private tour checklist
Description
Your Macau private tour checklist helps you prepare your Macau visit
Author
Publisher Name
Easy Hong Kong Private Tour
Publisher Logo